Big Data Services
Bring the power of 

AWS

to your data
Uturn enables your organization to deploy and scale the capacity needed to process, store, and analyze Big Data workloads almost instantly with no upfront costs.
Uturn Data Value Framework
To help assess your organization's use of data, Uturn created the Data Value Framework. Our structured approach helps prioritize next steps and ensures that your data strategy meets the unique needs of your business. With AWS, you have access to tools that can help you use your data to improve your customer experience, drive new business insights, and increase operational efficiency.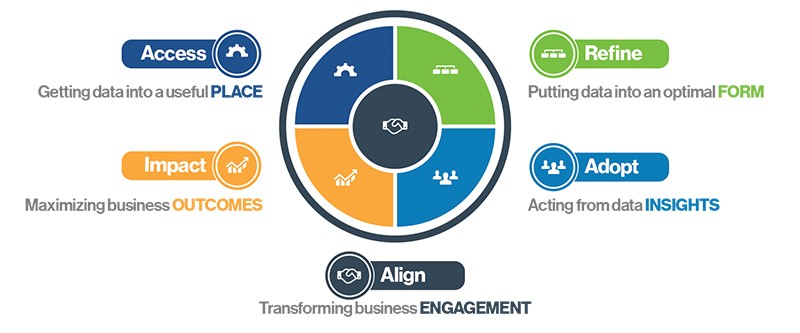 AWS Big Data solutions support distributed processing frameworks, predictive analytics and machine learning, real-time analytics, and petabyte-scale data warehouses. And, unlike on-premises approaches, there's no need to procure, deploy, and manage hardware. Organizations who are looking to get more out of their data practice can rely on Uturn Data Solutions as their trusted Big Data advisors.
Access
Source, profile and get data to a location where additional activities can occur
Refine
Ensure data is sufficient for use
Adopt
Use data and analytics to drive high value activities
Impact
Measure performance, identify potential improvements, and gain valuable insights
Amazon QuickSight
The volume of data businesses create and process is growing every day. To get the most value out of this data, companies have historically needed to invest in costly on-premises BI tools. Using these methods can take weeks or months of data engineering time to build complex data models; not to mention the additional infrastructure needed to maintain fast query performance as data sets grow.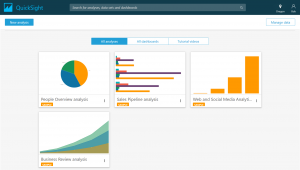 Amazon QuickSight is built from the ground up to solve these problems by bringing the scale and flexibility of the AWS Cloud and by providing users a focused experience to business analytics. QuickSight is also the first BI service to offer pay-per-session pricing, making it even more cost-effective for you to provide access to analytics and insights for all of your users. With pay-per-session pricing there are no upfront costs, no annual commitments, and no charges for inactive users.
Benefits Include:
Scale automatically based on your usage and activity
Fully managed Serverless cloud application
Pay only when you access your reports and dashboards with no up-front costs
Fully integrated with AWS services like Redshift, S3, Athena, RDS and others
QuickSight Enablement Services
User Management, Security and Access
IAM, SSO, Federated SAML, Group Policy Management
Data Lake Architecture, ETL, Data Enrichment, Row Level Security
Everything from POCs up to Thousands of Custom Reports
User Training and Adoption
Individual/Team Training, Usage and Performance Reporting for QuickSight
Uturn's Redshift Pilot
Our Amazon Redshift Pilot engagement accelerates Redshift adoption.
Configuration of a Redshift warehouse in your AWS environment

Ingest, process and transform selected data sources into Redshift with the Uturn Data Engine

Query performance and tuning of Redshift data warehouse

Integration with existing or new business intelligence and visualization tools

Cost analysis for full migration to Amazon Redshif

Roadmap and playbook to bring Pilot to a production state
Amazon Redshift
Is your organization constrained by the rigidness, cost and complexity of your existing relational data warehouse?  Are your queries taking too long?  Are you tired of waiting weeks or longer to make changes to your data warehouse environment?  Amazon Redshift solves these challenges and lets you to deliver agile business intelligence solutions to your users.
Fully managed
Petabyte-scale
Columnar Storage
Massively-Parallel Processing
Less than 1/10th of the cost of legacy solutions
As the FIRST Amazon Redshift Service Delivery partner in the US Midwest, Uturn has the advanced capabilities and experience to help you quickly and cost effectively evaluate moving your data warehouse to the Cloud.  Ask Uturn about our Amazon Redshift Pilot program.
About Us
Uturn Data Solutions is an Advanced Tier Amazon Web Services Consulting Partner at the nexus of data strategy and cloud computing. We provide advisory and technology services that transform data assets into real business value.  From Proofs-of-Concept to cloud migrations, our team of certified AWS Architects are experts at designing and implementing to AWS Best Practices.